What is a Spirit Bag Or Pendant?
Spirit Bags are handmade by Milda, and are sacred containers to hold personal items of significance, such as herbs, stones, or other objects believed to possess spiritual or healing powers. These pouches are often worn as necklaces, close to the heart, symbolizing the connection between the wearer and the spiritual or medicinal contents within.
Similar talismans have existed since the beginning of humanity in cultures around the world. Here are some examples:
Native American: Many Native American tribes use medicine bags to hold sacred objects for protection, healing, or spiritual purposes.
African: In many African cultures, practitioners of traditional medicine carry small pouches or bags containing herbs, roots, or charms believed to have healing or protective properties.
Middle Eastern: The use of amulets and talismans is prevalent in Middle Eastern cultures. These can be small pouches or items containing inscriptions from religious texts or symbols believed to bring luck, protection, or ward off evil.
European: European folklore and spiritual traditions include the use of charms, amulets, or small bags filled with herbs, stones, or other objects believed to have magical or protective properties.
South American: Indigenous cultures in South America have their own traditions of using small bags or pouches, often called "mesas" or "ayahuasca pouches," which contain sacred objects, herbs, or offerings used in healing ceremonies or shamanic practices.
Asian: Various Asian cultures, such as Chinese, Tibetan, or Thai, have traditions of using amulets, charms, or small bags containing religious symbols, prayers, or blessed items believed to bring luck, protection, or spiritual benefits.
These are just a few examples, and the use of medicine bags or talismans can be found in many other cultures worldwide. The specific beliefs and practices associated with them may vary, but the underlying concept of carrying or wearing a personal object believed to possess spiritual or protective qualities is widespread.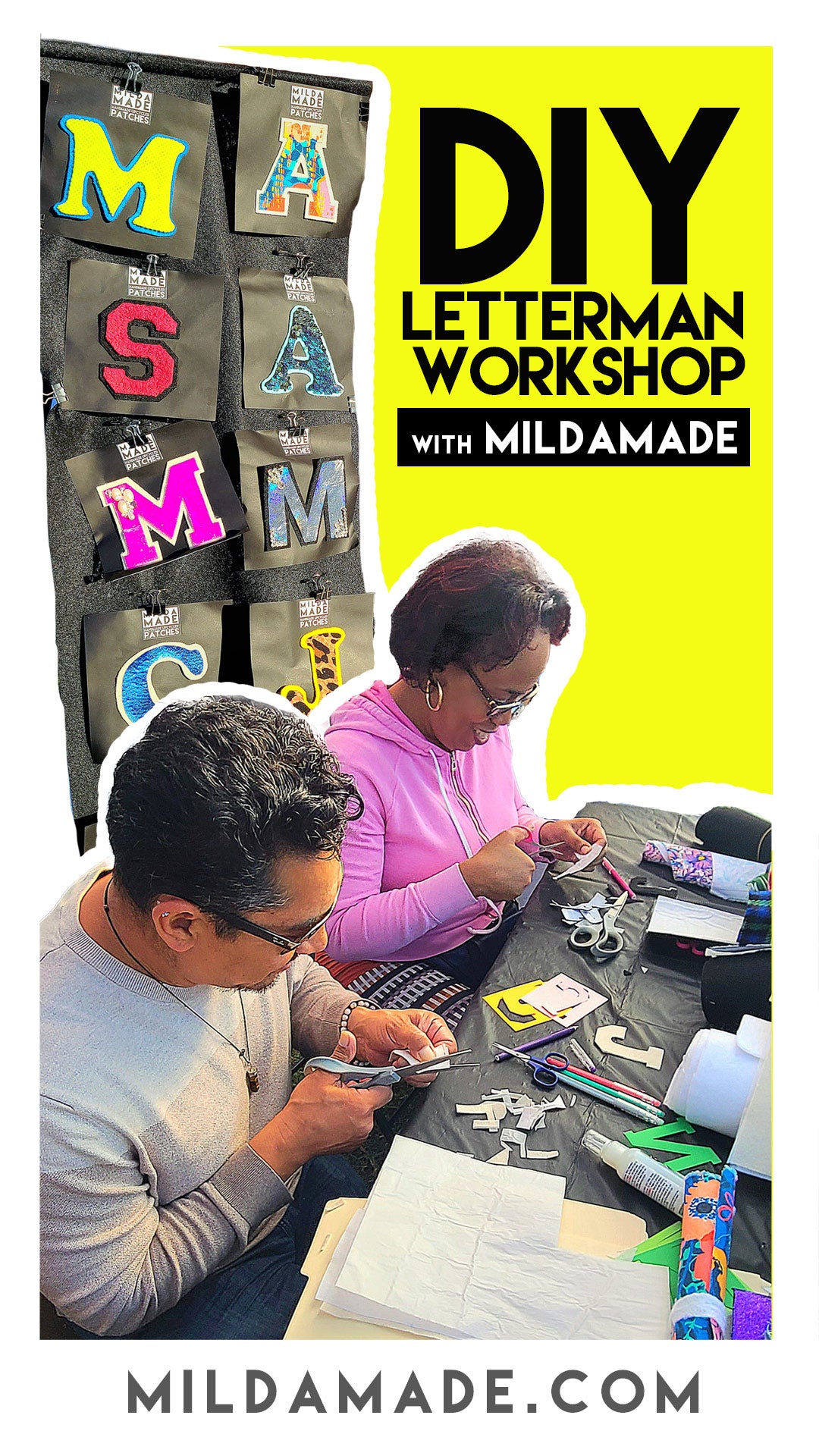 Burbank: Craft with Me!
San Fernando Blvd in Downtown Burbank
[From Magnolia to Angeleno]
*Use 200 N. San Fernando Blvd for navigation to a mid point of the festival
Join MildaMade at Jackalope Art Fair Burbank on Dec 9 + 10th for a FREE, eco-conscious mini-workshop! 
Craft a unique letter patch to adorn your jacket, backpack, or anything you fancy. Upcycled fabrics make this project sustainable, sparking your creativity to transform found materials into stylish wardrobe upgrades. Best Part? All materials are provided- so don't miss this chance to blend creativity and sustainability!
More Info Below...
Register Now!
Adult Workshop (15+ Up).
Tickets grant priority; entry not guaranteed.
You must arrive 5 min early to secure your seat or it will be reassigned.
Class starts promptly at time indicated.
Very limited seating, so please RSVP to register for 1st priority. Click "GET TICKETS":
Dec 9th 12 :00pm
Dec 9th 3:00 pm
Dec 10th 12:00 am
Dec 10th 3:00 pm
If tickets are unavailable, feel free to visit the market, and check in with us a few minutes beforehand to be added to our waitlist! If seats become vacant, we will gladly accommodate you. In the event of full capacity, enjoy the market, vendors, food, and Downtown Burbank!