Workshop FAQ
Link To Register:
FREE DIY Letterman Patch Workshop With Mildamade
Is this workshop for kids?
No, this workshop is geared for adults only. But feel free to bring your kiddos so they can observe and be inspired!
Where is your booth located?
Jackalope Market occurs at:
Central Park 275 S Raymond Ave., Pasadena, CA 91105
I will be at Booth #219- you'll find me at the end of the row, right next to the info booth. More specifically, the west side of Central Park, closest to the intersection of Fair Oaks and Valley streets.
Do I need to bring anything?
No, only your creativity is needed! The workshop is free, and we supply all the materials. However, if you'd like to make a donation to support material costs, it would be sincerely valued.
What's the duration of the mini-workshop?
Plan for a crafting session lasting between 20 to 45 minutes to create your masterpiece! Milda will provide brief guidance for a few minutes, as this is a short and sweet craft, allowing you to resume shopping at the market swiftly.
I can't make it, can I take this workshop in the future?
Yes! I will also be hosting this workshop at the Jackalope Art Fair in Burbank on Dec 8+9th. Exact details and registration to follow. To be notified, please sign up for the MildaMade Mailing list here:
What is Jackalope?
JACKALOPE: AN INDIE ARTISAN FAIR is a unique, curated shopping experience featuring the top trendsetting makers & designers of local goods.
Free Admission & Over 150 Local Artisans!
The mission of Jackalope Arts is to create a shopping experience with the highest quality, locally handcrafted goods. They strive to support local artisans who devote their lives to their creations. The Jackalope Arts Experience: More than just a chance to shop, Jackalope Arts offers an opportunity for the community to meet the makers.
Where do I park?
Market MAP AND PARKING can be found here:
https://www.jackalopeartfair.com/visitpasadena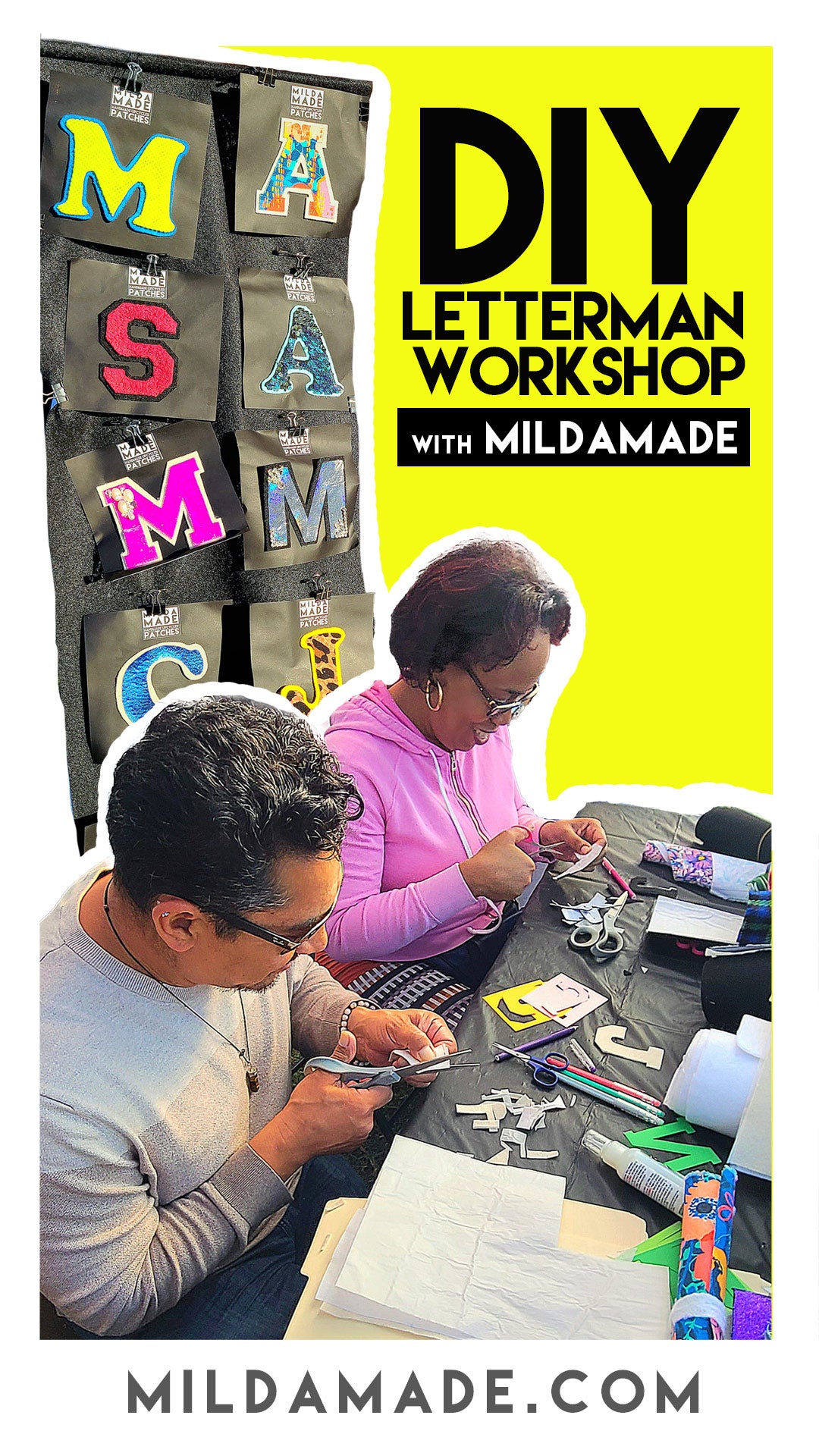 Burbank: Craft with Me!
San Fernando Blvd in Downtown Burbank
[From Magnolia to Angeleno]
*Use 200 N. San Fernando Blvd for navigation to a mid point of the festival
Join MildaMade at Jackalope Art Fair Burbank on Dec 9 + 10th for a FREE, eco-conscious mini-workshop! 
Craft a unique letter patch to adorn your jacket, backpack, or anything you fancy. Upcycled fabrics make this project sustainable, sparking your creativity to transform found materials into stylish wardrobe upgrades. Best Part? All materials are provided- so don't miss this chance to blend creativity and sustainability!
More Info Below...
Register Now!
Adult Workshop (15+ Up).
Tickets grant priority; entry not guaranteed.
You must arrive 5 min early to secure your seat or it will be reassigned.
Class starts promptly at time indicated.
Very limited seating, so please RSVP to register for 1st priority. Click "GET TICKETS":
Dec 9th 12 :00pm
Dec 9th 3:00 pm
Dec 10th 12:00 am
Dec 10th 3:00 pm
If tickets are unavailable, feel free to visit the market, and check in with us a few minutes beforehand to be added to our waitlist! If seats become vacant, we will gladly accommodate you. In the event of full capacity, enjoy the market, vendors, food, and Downtown Burbank!